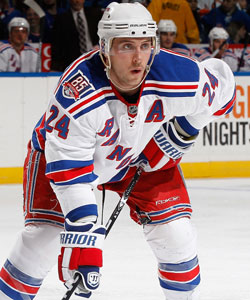 C is for Cally
In the midst of the Traverse City Prospects Tournament the big club made a big announcement when they announced that Ryan Callahan will start the 2011-2012 season as the Captain of the NY Rangers. Marc Staal and newcomer Brad Richards were named the alternate captains. (Yes the title is a play on a Cookie Monster song).
We all know the connotations that come to mind when the captaincy of the Rangers is brought up but the last time a Rangers captain was a drafted player was Brian Leetch. Before that? Ron Greschner.
The point here is that the Rangers have decided to follow through on what they have been implying lately and that is the fact that the young core of players who have developed in NY are the core the organization is going to roll with as the leadership group for the long term. Callahan and Staal seem to have stepped up as the leaders of the room among the younger players and Head Coach John Tortorella has acknowledged it as such.
I have seen people say that Brad Richards does not deserve to have a letter on his jersey since he has not played a game nor been in NY. However I disagree. Yes, it is important to acknowledge your core and show that you trust them. However, an important part to any leadership group is experience and Richards certainly has that on his resume'. He has won a Stanley Cup and a Conn Smythe trophy. He has been from the bottom to the top and experienced almost everything you can in the NHL. All of those experiences add up to become something that the Rangers young core will need at times. As much as Ranger fans don't want to admit it about Staal and Callahan, there will come a time where they will not be able to address a situation having never been in it. There is a good bet that Brad Richards will.
Many have asked about why Brandon Dubinsky did not receive a letter. Dubinsky is most likely a leader on this team. If anything he is the emotional and much more abrasive leader. His attitude is one that is very emotional and open. However I don't think that is the type of leader the Rangers are looking for. The last few NYR captains have been very soft spoken individuals in Chris Drury and Jaromir Jagr. Callahan isn't the most soft-spoken person but he is much more subdued than Dubinsky who is a guy not afraid to speak his mind. A captain shouldn't be afraid to speak his mind but at the same time they cannot allow their emotions to run them and that is something, as we have seen in the past, Dubinsky has been known to do.
Obviously everyone will be expected to provide some kind of leadership in NY this season but the coaching staff has chosen a strong trio to lead the team into a season that is one of the most anticipated in recent memory.