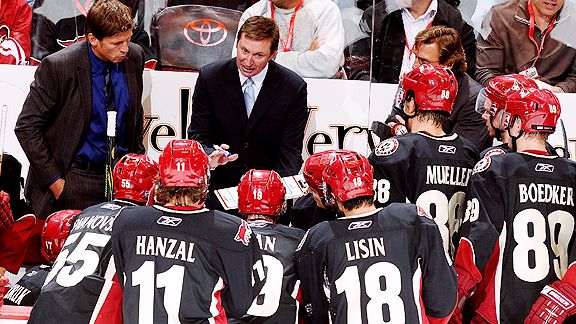 If you have not noticed it has been just about five days since I last posted on here and the news has come out flying all around the NHL. Lets get started:
Unless you have been under a rock for this whole summer
Dany
Heatley
has been the man who has made you want to put a screwdriver to your head. From rumors that involved the New York Rangers, to his request for a trade and then blocking it with his no trade clause, the
Heatley
saga has seemed infinite. However, it finally came to an end two days ago. The Ottawa Senators traded
Heatley
and a fifth round pick in 2010 to the San Jose Sharks for Milan
Michalek
, Jonathan
Cheechoo
, and a 2
nd
round pick in 2010.
It looks like Bryan Murray got the kind of deal he wanted. He adds some much needed depth to his roster with two solid young players and gets rid of a potential problem in
Heatley
.
At first glance it seems the Sharks may be Stanley Cup contenders with this move...but not really. Yes they gain a very talented scorer in
Heatley
but to win the Cup you need the depth. With the departures of
Michalek
,
Cheechoo
, Marcel
Goc
, Jeremy
Roenick
, Travis
Moen
, and Mike Grier depth is becoming a serious issue for the Sharks.
The New York Rangers finished in third at the Traverse City prospects tournament by defeating the St. Louis Blues 5-4 in the third place game.
Evgeny
Grachev
had two big goals in the game as he tied the game up at 1 with his first goal and gave the Rangers the lead for good on his second goal in the third period. Daniel
Bartek
had two assists while tournament invitee Luke Walker continued to impress as he scored a goal to tie the game at 3.
Overall the tournament was a huge improvement for the Rangers from last season. A third place finish shows improvement over last season where the Rangers finished in sixth place.
Alot
of development was shown as top prospects like
Grachev
and Michael Del
Zotto
improved from last year while 2009 draft picks like Ethan
Werek
and Ryan
Bourque
showed what they are capable of. It is showings like these that is making Ranger fans drool over the prospect of what these young guns will be able to do once they reach the NHL.
To the Coyotes fans who read this blog, an apology must come from me as I have not written anything about them in a decent amount of time even though
alot
has been happening. The entire financial situation has been an issue that is above and beyond my knowledge which is why I have not covered it very much. The business and legal lingo that has been thrown around is very complicated and is covered by more qualified people than myself.
Although some news that has happened on the ice is the fact Wayne Gretzky is not present at camp. Gretzky is waiting out the ownership situation which includes what will happen to him as the head coach of the team. Assistant head coach
Ulf
Samuelsson
is running the camp as of now for a Coyotes team that is looking to get back on the ice and focusing on hockey.
From interviews done with players over the summer, it sounds like they are very ready to go and eager to prove to everyone that not only can hockey work in Phoenix but it can be successful. The players know they have to win and the veteran additions of Adrian
Aucoin
, Vernon Fiddler, and the return of
Radim
Vrbata
should help boost the Coyotes.
So keep an eye out for a Coyotes piece later today as I balance school work, college work, and this. I may combine it with a bit on Brandon
Dubinsky
and that entire situation so keep an eye out!
Also I may not have mentioned this but Twitter seems to be a new way to get articles and other information out to
alot
of people at once. If you would like to follow me on Twitter you can click
here
and click "Follow". The only updates I do are for new articles so no spam. I also put these articles on
Facebook
.
Thanks again to everyone for reading and keep spreading the word. I really enjoy doing this for everyone and can't wait to do more as the season gets going.