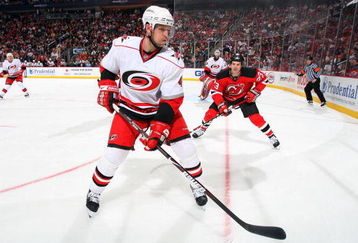 According to the German hockey website,
Eishockey
, the Rangers have interest in free agent
defenseman
Dennis
Seidenberg
. The full article can be found
here
in German.
In the interview with the German born
defenseman
,
Seidenberg
says that he is in daily talks with the New York Rangers as well as the Florida Panthers and is looking for a three year deal. However, neither the Rangers or the Panthers may be willing to give
Seidenberg
a three year deal.
It is understandable that
Seidenberg
is looking for a long term deal as he has been around the NHL in his short career. Having played for the Philadelphia
Flyers
, Phoenix Coyotes, and Carolina Hurricanes,
Seidenberg
wants to establish himself somewhere for he and his new wife. However, with the market being the way it has been, it has not been easy for him and he may have to take less than what he wants to sign with a NHL team.
However, from a Ranger perspective, a move like this would be a huge benefit.
Seidenberg
had a career year last season with Carolina with five goals and 25 assists for 30 points, adding six more points in the playoffs for the Hurricanes. The only
defensemen
with regular NHL experience for the Rangers right now are Wade Redden, Michal
Rozsival
, Marc
Staal
, and Dan
Girardi
. Personally, I'm not a fan of having two spots open to rookie
defensemen
and any team that has won the Stanley Cup the last few seasons has had serious depth at every position.
Seidenberg
would provide this for the Rangers.
I understand that the Rangers have serious depth in their prospect pipeline at the defensive position but that is all those players are, prospects. Glen
Sather
needs to make sure the NHL roster is ready to go this season and if that includes adding a player like Seidenberg then he should go for it. I like the stock of prospects the Rangers but there is no guarantee any of them will pan out like Ranger fans hope.
The 27 year old made $1.2 million with the Hurricanes last season. My guess at a salary figure for him would be $2 million or less considering the amount of money available to teams right now. However, adding a solid veteran like Dennis
Seidenberg
would only help to solidify the Rangers on the back end, something they need to do if they want any shot at being a contender in the Eastern Conference.